VISIT OUR COUNTRY .... And have some rice or kos or rice with some kos ......
---
---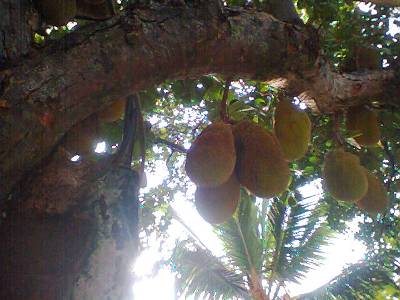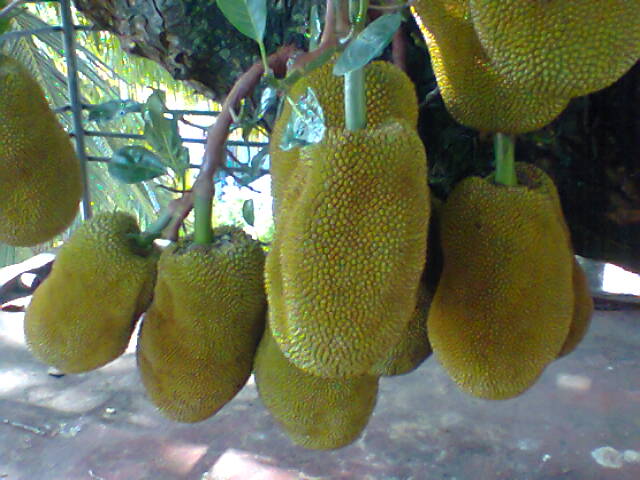 What do you prefer for today's lunch?
I LIKE TO DEDICATE THIS LITTLE PIECE OF WRITING TO OUR VERY DEAR 'KOS MAAMA' – ARTHOR V. DIAS
( Mr Arthor V. Dias is a person who dedicated most of his time trying to convince people the use of kos that provide tasteful and meaning full and total meal for you and for your child, your family)
The wonder, the brilliance of colour mixtures, the sizes and shapes, the branches, the leaves, the height, the shade, the attraction ……
a mother, a father, a giver, a neighbor in need, a dear friend in deed, a hunger detector, a heart winner, a money bringer, a supporter of a family, a doctor, ……. …….
No this not a better explanation of a kos gaha (jack tree) pardon me.
If you know of someone who hold all these qualities aforementioned let me know ….. the looks, the physical appearances think of all these if you are willing to give anyone a an explanation of this tree.
The one and only person I know since my childhood that holds all these qualities is none other than our handsome 'jack tree' 'ape kos gaha' ……( the tree that provide us our daily plate of rice)
So delicious and so nutritious ……
Let me close my eyes for a moment was that about the fruit or about kos mellum, the polos curry, kos maaluwa?
NO actually it is about 'waraka' ok if you like wela that is about wela then ….. waraka is a choice of all lovers, believers, players, dancers, actors, doctors, students , old and young, the teachers, foreigners
Oh! Let me not forget the kids …. They love waraka ………. I am sure.
How about having a 'WARAKA' juice rich in vitamin 'C' for a change before lunch or for breakfast?
Ask Mr. Publis Silva he knows to make waraka juice in a sooo brilliant way. He is the best to ask and get the recipe….. Mr. Publis Silva the very famous chef world wide. Let me pay my respect for you sir for try promoting and giving a place for our traditional dishes like 'kos and del'
Waraka juice …..
Get some water add some sugar and then some waraka …. Taste it and see ok …. I have no doubt you'll feel like falling in love just with the color of this juice forget the flavor for a moment.
I don't think that Mr. Wijeratne Warakagoda misses this kind of varieties of bath (rice) Sir how did you get this name 'Warakagoda' I know that it is your family name right? I like to know the history can I come and meet you sir for a little chat? I like discussing about 'warakagoda' families if you don't mind and all about other warakagoda lovers… your fans Sir?
It is so wonderful to look at a waraka gaha or kos gaha any 'Arunata pera' a standing ovation for the role that you played in arunata pera sir, brilliance performance sir!
Oh! Let me not forget purpose of writing this little note of this wonder tree 'kos gaha' 'ape 'BATH GAHA'
'Bath rasa danno gaha handunanno' …… ( the people who have the ability to understand the flavour of rice can easily identify the tree/ any tree)
are these words a line of a song? Don't know whether Mr. Sunil Edirisinghe veteran local artiste knows the owner of these words?
There are times that you find no grains in your kitchen then you just need to walk around your garden I can imagine how happy you are seeing the tree full of kos. Then you have no problems that it self bring happiness and the meal of your day.
My father is a kos lover. The seeds, the nutritional value of them I don't know to explain.
That is a wonderful view a kos gaha with full of kos gedi ….. a huge jack tree with full of its fruits what a view! That reminds me of a beautiful mother that holds her kids so tightly and so gently, and dearly….
What are you going to have for lunch? Are you planning to go out with your friends just tell me of a restaurant that serve you any jack curry or polos embula I will go and thank them for promoting the 'food …..'
'Nuwara ayata polos embula hondata uyanna puluwan hariyata dakune ayata 'maalu embul thiyal puluwan wage …
some say that the people who live in Kandy area of our country can prepare the jack curry in a better way exactly like the the people who is so good at cooking ' fish curry' known as maalu embul thiyal ( sourly flavour and this type you can keep for days without refrigerating it)
visit our people in South and experince the difference and do not forget to visit other areas to flavour the other different cuisines, the wonder of cooking in North & East as well.
People say so? Is this true? I am sure. I should have talked to Ms Disanayake or Ms Ratwatte before writing this little note? ( Dissanayake's and Ratwatte' s these are some of the family names/surnames of our people)
Even the light house/ Galle ( a lovely hotel with a good sea view) serve you a better Kos curry with very tasteful maalu embul thiyal… no doubt something to do with curries and food here in this area I believe.
write to me before you plan to visit us :)
Cooking is an art>…….
Art of preparing a very tasteful kiri kos viyanjanaya I am not good at explaining.
The tree is so handy and very romantic and so lovely. I feel like embracing the wonder of the leaves …. Some are light green and some are very dark green …..
have a look at a tree. did you notice the picture i posted?
Let's have some kos with pol sambol ( a lovely mixture of grated coconut with some chillies, pepper, garlic, and karapincha ( the curry leaves) just to add some extra goodness and nourishment ( only if you prefer) or with some lunu miris ( onion+ lime- chillies+ maldivefish( if you like it that way) who wants to join me for lunch?
call me before you come coz you all live too far :)
and try to come before we say the seasonal good bye for jack fruits.
A weight gainer…. I am thinking of all these gym instructors I think that they should recommend their students to have some kos in the morning for their breakfast. Any opposition let me know I can hide. There is a very safe place behind our kos gaha. That is so huge one can so easily go and hide behind this tree. I will have to do so only if I don't pay the rent of my house on time ….. That is a good hiding place for kids who like to play hide and seek.
This provides you a wonderful shade. I think it is so good to have a jack tree in closer to every bus stop I suggest.
A tree can feel things…. Sorrow, joy, the harshness of some weather conditions, I don't know what he likes most rain or sun, or both. We need both for a healthy environment right? We need rain, we need 'sunlight' for the growth of a tree. We need water for the healthiness of the tree. We need salt, pepper, cinnamon to prepare a jack curry along with other flavors like gedara hadana 'thunapaha' (home made curry mixtures /spices)
So this tree brings in all these together on to the table of your lunch room.
Ammala (mothers) prepare this very nutritious kos curry adding all that she knows and I think she never forgets to add her love before serving this to her husband and her kids.
This teaches us the lessons of different flavors of life, the choices, the importance of different preferences, coordination, the value of giving and sharing, protecting, also that teaches us the art of different colour combinations of life and of a tree. I am thinking of the difficulties of holding or bearing some things in different times/ stages of the life of this tree is not an easy task I believe. Holding its fruits I also mean bearing not easy especially when they grow older day by day ….
Please forgive for using some Sinhalese terms and pardon me for poor translations because I know a very little English. And I have no idea how the English should read my English explanation about our jack tree?
'Our Kos maama' Arthor V Dias. I am thinking of his heart right now. May you attain Nibbana! just because of the idea of protecting such a wonderful tree.
I don't like to talk about the 'timber' because I am against deforestation. A waduwa of moratuwa can craft and design a wonderful 'a wardrobe' or he can provide us with comfortable seating facilities…. True we love and like them. People live and they decay this is the universality of this nature and this rule is applicable to this wonder creation as well but let's keep this in mind.
Say No! and say 'STOP!' to that idea of deforestation every possible time. If you can observe very closely the growth of a tree there are plenty of things that you can learn. Think of a tree in your home garden don't you think that it teaches us many things related to our lives?
NO! it is not only the AMAZON that we should protect the Sinharaja and all the trees across the globe. when you visit SINHARAJA next time you may see these trees and forget the sili bags/the polythene or take inside only the disposable stuff that is your place too
'Kiri gahak mulichchi wela yanna Honda gamanak yanakota' if you go meet a such a tree all your dream may come true our people believe first and foremost that is to respect the trees.
There are a loads of folk stories related to this bath gaha I believe if you if you are interested in learning 'our literature' etc.
'Read and learn' 'Kiri gahata enna wage hari yanawa' karana kiana owne deyak. Good results are assured.
There are rituals related to avurudu celebrations, the customs and rituals that a farmer should follow before starting 'paddy cultivation' has an immense value. We can not forget the sociological value of the legendary details that are attached with Sri Lankan lives.
If you are planning to heading for a good work with a good will and a hope in your mind, meet a kiri gaha before you stepping out of your house. The elders say so and I respect them for giving some value and a place for a tree in their hearts and minds. And they believe that it is good indicator, sign of the dreams become a reality or will become true. of success of you work go meet a kiri gaha a kos gaha.
Now tell me …… what do you prefer for lunch? Rice with kos or Kos or rice? ………