World Pulse Tour October 2-22, 2011
---
---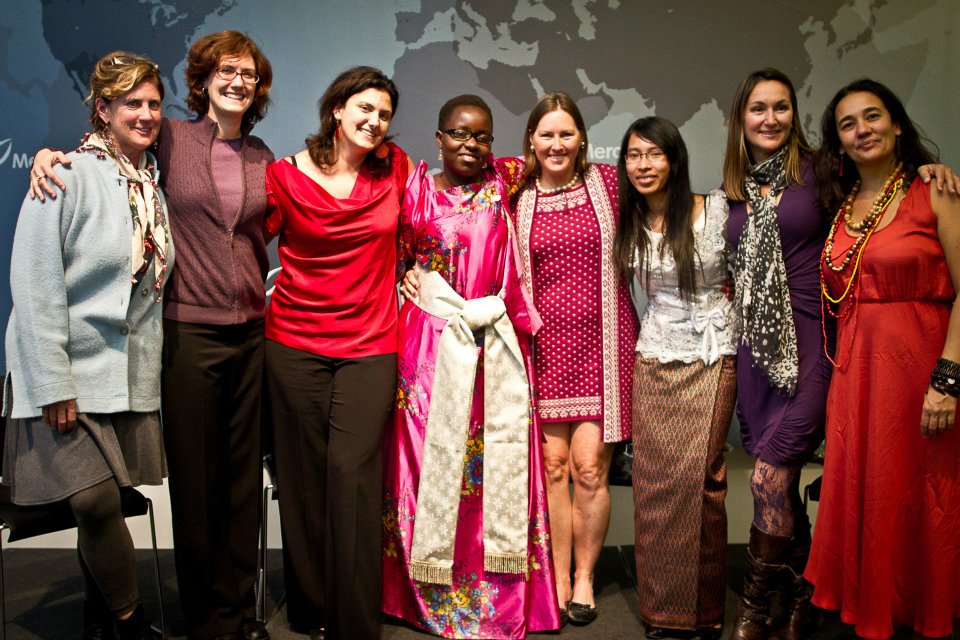 The Media tour, World Pulse Live 2011, has impacted my life in various ways. Five cities, 14 speaking events, thousands seated and listening to us was a great honor. Actually it went on better and better; from Portland, the world Pulse office to the White House, the further we went, the more advanced it was.
At the beginning of the journey we did not know how and where to start from because we have so many things to tell the world but limited to only 5 minutes; most times we had to use one word to mean several and that was where the questions arose from. Thanks to Nan Crawford, the speaking couch for training us how to say what we wanted to say with specificity.
One major thing I realized from this speaking tour is that so many people in this world do not know about what happens outside their world. It was always jaw dropping to many to hear about for example a family ruined by HIV, a girl buying a dictionary to learn English, speaking to the trees and nature....
I think it is time for us to open up and visit places to find out what happens beyond our worlds so that we can be able to take actions accordingly (innovations for sustainability in both developed and the developing worlds).
As we were sharing our stories, some people were appreciating what they are and getting stronger to do the extra ordinary. I heard comments like "If you can do it, I can do it too." The atmosphere of sharing ideas and experiences brings about innovative thinking and courage which forces others to find solutions to the troubles in the world.
This may sound stupid but one of my greatest moments in the tour and in my life; I have always heard of massage and FEARED to even "try" to know what happens about it - exposing my body to someone, noway! Not until Ellie of World Pulse asked us prior our tour if we needed it and to what extent1/4, 1/2, 3/4 or FULL massage. Surprisingly we all secretly opted for full massage.
The day came for the massage, my heartbeat arose each time I thought of who was going to do this to me and how?! Portland massage by Krystee Sidwell Lmt - www.krysteesidwell.com became the most wonderful first loving touch in my life. I wondered how I would show her that I appreciated her handwork, I gave her my small treasure, my jewelries as a token of appreciation, I secretly hid it under her pillow. You can NOT imagine what she did the next day after seeing my note and the little gift under her pillow; Krystee fetched ALL her jewelries, 1000times more than what I gave her and gave them to us. I was like aaaaaaaawwwwwwwhhhh! I can never forget you Krystee! And Dr. Hauschka for the face and foot massage, and all the skin care supplies you gave to us and to all those who were present in all the events,also to Eileen Fisher for the bags and support you us and to all those who were present in all the events, I deeply appreciate all of you.
I would like to extend my sincere thanks to the World Pulse team, the team of mentors and midwives and to my mentor Kat Haber and Ruth Beedle and to you Rachael and Scott for making this happen in the very last minutes. Thanks to you Jensine for holding your dream and laboring to shoulder global voice, the voices of the forgotten, the voices of the unheard, the voices of the wounded. Your dedication, courage and heart will at one point twist the whole world to listen to the whole world (all peoples, all languages, all nations, all creatures).
I will wind my appreciation to all the listeners, all those who attended our events from Portland to Washington DC, what can I say about going to Intel headquarters? the White house, grassroots women, stepping into places of honors? A LOT to be thankful for forever. Thank you so much, from the bottom of my heart!!!
As the world population is expected to hit seven billion on Monday 31 October 2011 according to the United Nations, let us think of what we want of the world starting with our families, our communities, our countries, our continents and the whole world. Education?, Economy??, Marriages???, Children????, Nature?????, democracy and political freedom??????, Health???????, Technology???????. Say what you have to say, do what you have to do to save our world.