Youth enterprise development a way to curb illegal immigration
---
---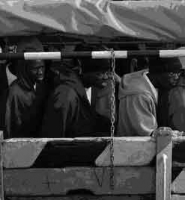 Every day border patrols on the Mediterranean troll the sea in search of illegal immigrants trying to steal themselves into Europe. They are typically male and in their youth, with great hopes of making a sustainable and prosperous livelihood in the West.
Indeed, illegal migration and human trafficking continue to prevail mainly due to the growing inequities, not only between the developed and developing world, but also within individual African countries.
With communication and travel getting cheaper, Africa now has an extended family we fondly call the Diaspora. Countries such as Kenya and Zimbabwe for instance, rely on remittances from these cousins abroad, and it was only when the global economic crisis started to really hit hard, that African local economies revealed that a substantial proportion of their budgets were indeed based on foreign remittances.
So it is not surprising to hear of arrests made by border patrols on either side of the Mediterranean, telling of nationalities that are now becoming more Eastern. A recent haul of illegals had Ethiopians and Somali among them. Somehow they made the trek westwards, turning upwards at Timbuktu through the rigors of the Sahara. Unfortunately for them they were arrested just as they caught sight of the "promised land", Europe.
Detention centres on Europe's southern seaboards are full of young men and women who refuse to reveal their nationality which would enable the authorities to repatriate them. This has been so problematic to the EU, that they have now turned to countries such as Morocco, Libya and Senegal, who in effect will act as a buffer border zone. However, unless and until the push and pull factors that spur for the youth brave the hot sun and the brutal sea for economic are addressed, cases of illegals will persist.
An innovative way that seems to be gaining currency is in European countries engaging their African counterparts, in a sense to ensure that local economic factors act as a deterrent against out-migration or as an incentive to remain.
Programmes that address factors that adversely affect youth entrepreneurship supply are an indirect but powerful way of enticing the youth to remain in their home countries. Examples include education reforms that equip the youth with financial literacy and business management skills; promoting legal and regulatory reforms to facilitate the ease of doing business and also providing credit facilities to small business entrepreneurs. Such actions should at least make these young people whose only goal is to work hard, to take a second look at staying on the Continent and build their nations.
After all, if someone is willing to trek across Africa on a shoestring budget, save enough money to pay a trafficker and survive a desert and the sea on just a wish and a prayer, wouldn't that person make a great entrepreneur, as evidenced by their determination, thrift and persistence?