youth iN da eyES oV IQbal
---
---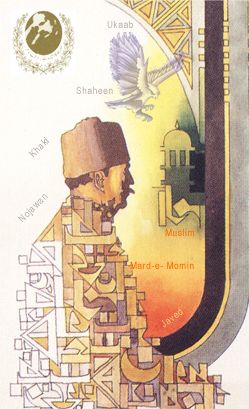 Allama Muhammad Iqbal is one of the most outstanding poet-philosophers of the Indian sub-continent belonging to the modern period. His intellectual genius has reigned supreme in the arena of Islamic philosophy during the twentieth century and is likely to direct and influence the Islamic Intellectual tradition in the twenty first century as well. His sublime poetry and philosophy inspired millions of Muslims to wake up to the reality of the times and forge a destiny for themselves.
Iqbal was deeply concerned with the Youth of that time. He was very much clear to the fact that if Youngsters had focused their real destiny then they could have led the Muslims of Sub-Continent out of the danger of destruction earlier than they did.
Iqbal's Nojwan is a True Muslim, Mard-e-Momin, Mojahid, Shaheen, Man of Khudi and an Optimistic person who can pull down the stars to himself. Iqbal says:
"Mohabbat Mojhe Un Nojawanon Se Hai
Sitaron Pe Dalte Hain Jo Kamand"
"I have love for those youngsters who pull the stars down"
Iqbal's Nojawan is creative nojwan. He is Shaheen who hunts and then takes. Iqbal says:
"Wuhi Jahan hai tira jis ko tu kare paida
Yeh sang-o-khisht naheen jo tiree nigah men hai"
"Your world is (only) the one which you create yourself,
Not these stones and bricks, which are in sight"
He also says:
The destiny of nations is vested with the individuals. Similarly every person belonging to the Muslim Ummah is its destiny's star."
He also feels uncomfortable with the way the knowledge is being transfered to the Youth. He says
"Shikayat Hai Mojhe Ya Rab Un khudawandan-e-Maktab se"
"Sabaq Shaheen Bachon Ko De Rahe Hain Khak Bazi Ka"
Iqbal's philosophy of khudi shows that man is neither soul nor body. Man is above both because he pessesses them. Iqbal's nojawan is a Man of Khudi. The absolute Khudi is infinetly creative. "Know thy self and success shall be thine" said by some Philosopher. Iqbal expresses if man becomes empror of himself then he can lead the world to his own direction. He says:
"The man of strong character who is master of himself
will find fortune complaisant.
....
He will dig up the foundations of the universe
and cast its atoms into a new mould.
He will subvert the course of Time
And wreck the azure firmament.
By his own strength he will produce
A new world which will do his pleasure."
Iqbal, to disgrace pride and richness, says:
"Mera Tareeq Amiri Nahi Faqeeri Hai
Khudi Na Baech Ghareebi Main Nam Paida Kar"
As a conclusion, In Iqbal's eyes Youth is representative of the nation, not only of the current nation but also of the nations to come, i.e thay will set a stage for next generation. If Nojawans are True Muslims and have Fourteen qualities of a true leader that are written in the verses of "Surah Bakara" in Quran Sharif then nation can prosprous itself and if it is other wise then nothing can stop them to be ruined. But Iqbal is optimistic and says.
Nahi Na Ummeed Iqbal Apni Kisht-e-Veeran Se
Zara Nam Ho To Yeah Matti Bari Zarkhez Hai Saki