Concern For the 1 In 3 Women Without Basic Sanitation
---
---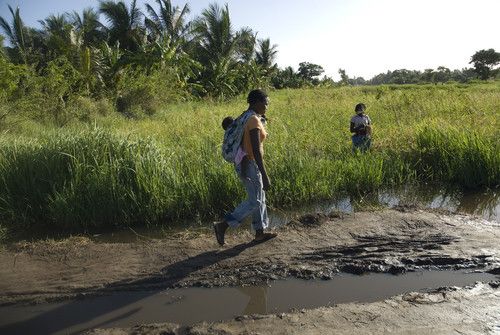 Many who have access to adequate (accessible, decent and safe) sanitation, may not realize how auspicious they are until they listen to the dismal stories of the 1 in 3 women who lack access. Majority of these women, who are amongst the world's poorest of the poor have no opportunities of being heard and lack the wherewithal to help themselves.
For these women, every day will continue to remain trying, burdensome and life threatening until the World's governments makes good their commitment to increase their efforts to provide access to water and sanitation for all. So, as the world marks the World Toilet day on November 19th, 2012, it is pertinent to sensitize governments and others about the depressing experiences of these 1.25 billion women across the world that still lack a descent and safe place to go to toilet.
When sanitation is inaccessible, inadequate or lacking, life could be an awful and frustrating experience, especially for a woman or girl. As I brainstormed over the plight of the 1 in 3 women who live without basic sanitation, I took a trip down memory lane and recalled a three weeks encounter which I had in March 1999. That was barely four months after I bagged my first degree. It so happened that I was due to begin the obligatory 11 month National Youth Service Corp (NYSC).
I felt like one who had the world at her feet upon arrival at the NYSC Orientation Camp at Obubra in Obubra Local Government Area of Cross River State, Nigeria. As essential, I arrived days ahead of the oath taking ceremony. The penalty for missing it was by and large, a six to 12 months wait for another call up. As is the standard of such remotely located and paramilitary camps our movements were regimented and restricted.
My peacock carriage was however short-lived! My first night at the Camp became a living nightmare when I felt pressed and needed to go to the toilet. The first bolt from the blues was that, only 10 sub-standard toilets and 10 semi detached bathrooms were available in the female wing of the hostels.
For crying out loud, by the count of that day, well over 900 teeming ladies, who were armed with their strength of mind, dignity and well earned 1st degree/higher national diploma/national college of education certificates, had landed the camp.
The second blow which inundated me was the unkempt state of the sanitary facilities and the noxious and dulling stench which greeted an intending user. At the count of the third day, the facilities had become a no go area, and virtually everyone resorted to going into the bushy spots/areas to urinate and defecate. The available sanitary facilities were grossly inadequate!
For us females, the behaviors and practices were unhygienic, untoward and embarrassing; but the lack of alternatives made adjustment practically impossible. It got so bad that it was no longer strange to see a young lady and guy urinating or defecating within close proximity or at par. Flying toilets and the bathrooms also served many of the other females because of the fear of going into the bush at night! Those who dared the potential dangers of the dark took solace that the camp was run under a paramilitary system.
Before long almost every part of the provisional camp (A boarding Secondary School) had become fetid and everyone had become at risk of an epidemic. With every passing day, I like many of my peers, became despondent and longed for the day the orientation would come to an end. Imagine living under such squalid conditions for the three weeks that the camp lasted. Thank God it did come to an end, I survived and also received the much anticipated posting to the establishment where I was to undertake my primary assignment.
In spite of the detestable situation I and my fellow female campers found ourselves in, at least we were not vulnerable to harassment and also sure of the day that the threatening, appalling and undignified experience we put up with would end. This, however, is not the case for nearly all the 1.25 billion women who still live under such conditions day in day out, without an inkling of the day their dilemma will end.
Key findings documented in WaterAid's briefing note on the 1 in 3 women who lack access to safe sanitation revealed the following:
• More than 1 in 3 (1.25 billion) women in the world lack access to safe sanitation. Of these, 526 million women have no choice but to go to the toilet out in the open.
• A lack of sanitation puts women at risk of shame, disease, harassment and even attack. Decent toilets would make their lives safer and healthier.
• Women and girls living without any toilets spend 97 billion hours each year finding a place to go.
• Every day, around 2000 mothers loose a child due to diarrhea caused by a lack of access to safe toilets and clean water.
• A new poll commissioned by WaterAid reveals that 40% of women in the slums of Lagos (Nigeria) have no toilets and are forced to defecate outside. A quarter of these had either first or second hand experience of harassment, a threat of violence or actual assault in the last 12 months.
• 67% of the women interviewed in Lagos stated that they did not feel safe when using a shared or community toilet in a public place.
• At current rates of progress, it will be over 165 years before Sub-Saharan Africa meets its sanitation MDG target, and another 350 years to get universal access.
• For South Asia, it will be over 25 years before it met over 25 years before it meets its sanitation MDG tart, and nearly 70 years to get universal access at current rates of progress.
• Since 1990, around 900 million women and girls have gained access to safe sanitation facilities while over a billion have gained access to clean drinking water.
In view of these mind boggling statistics, a state of emergency should be globally declared in the sanitation sector. There must be a strong will to change the status quo by ensuring that women's needs in particular, are met. Solutions offered must be responsive to the desire for change, real needs (privacy, comfort, respect, safety and hygiene) and abilities of the 1in 3 women, across the globe, who are currently vulnerable to the problems associated poor sanitation.
As women, we must rise and stay above the shadow(s) of our limitation(s) to support ourselves and organizations that support women. Women are obviously central to the work of WaterAid, an international charity that has continued to take giant strides and achieve remarkable success in meeting women's water and sanitation needs.
For other vital statistics, case studies, a viewing of WaterAid's recently released powerful video which depicts the dangers and embarrassment women face in accessing basic sanitation, and very importantly how you can take action, please visit www.wateraid.org/1in3.
.
Economic Power

Leadership

Technology