Divine Housewomen transforming into a women`s global movement-Betty Makoni amongst guest speakers
---
---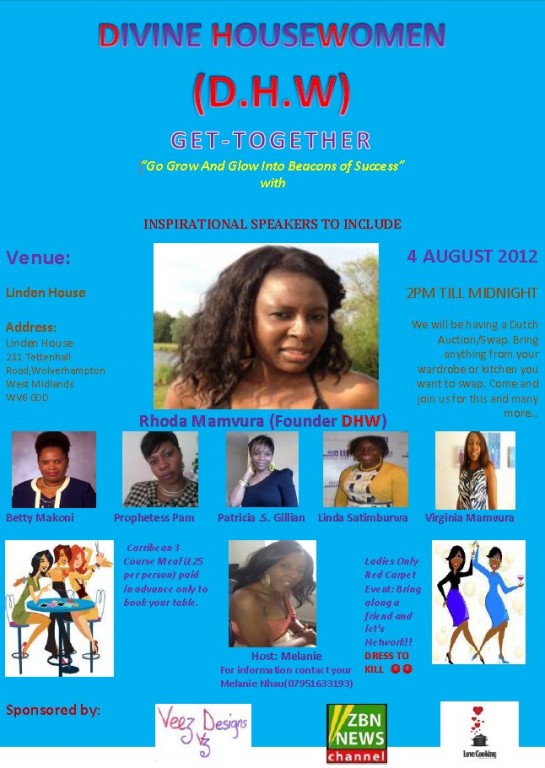 Recently a friend of mine called Linda Satimburwa invited me to a group called Divine Housewomen. I trust Linda very much because she is one kind of my story of girls who grew up in poverty and through sheer hard work we are out of the rubbles to being visible women leaders in our community.
I joined the group hesitating a little bit that it would be one of those groups where women share about minor issues. Much to my surprise the women come from all sorts of backgrounds and their Founder member Rhoda Mamvura had a vision for women from Zimbabwe to connect through Facebook and share all sorts of stories ranging from healthy relationships, good upbringing of children, economic empowerment and genuine issues around sex and reproductive health.
What is unique about this group is that the women connect naturally and spiritually. This is a trusted group of women of great faith and also coming from various churches. There is respect for each other and there is an openness that respects confidentiality and at the same time keeps one with integrity. What I like is that one can bring any topic or issue bothering them and ideas flow from everyone and help and advice is handy. This is a complete shift from when one travels long distances to seek counselling with an organisation and then she has to meet someone one off and go back home to be alone and lonely. In this group I see community group counseling helping a lot of women in distress and the woman seeking help and advice also has an opportunity to feed back on what actions they will take.I love this kind of community African women in the round hut approach to solving problems.
I can see ordinary women who are also housewives doing all sorts of businesses to sustain families. There is so much going on in their lives in trying to bring income in the family and whilst at the same time the role of a mother as a carer and a bread winner is clearly demonstrated through daily hard work to balance family and business. Often times, their stories of bringing up children whilst doing businesses and their professional jobs are underestimated. People do not take being a housewife,working woman, business woman as something serious and needing support. We always have weird thinking that once you become a housewife you are unemployed and yet this group has lessons for the world-the Zimbabwean woman is working 24/7. I have followed stories of Divine Housewowmen and I have come to think of a balanced wife, mother, business woman and a woman who is not at the top of society but working very hard for her family to go up the ladder. All the women struggled and still struggle with life and yet none of them has given up and remains hard working and determined. There is overwhelming evidence that women of this group create groups that women`s movements should formally recognise and emulate. Use of technology to connect and market, get exposure and just be visible is something that Divine Housewomen have embraced. They have used social media to show the power of grassroots organising of women. They need support as mothers and housewomen as contributions they make is huge through this group is massive.
I just love composition of the groups-friends of friends of friends and the connections go on and on. I love the trust amongst sisters and their networks. I love the idea of linking a woman and her Divinity to foundation of home, family and house. Musha Mukadzi is a shona idiom that reminds us that for any country to prosper we must support the woman and mother to be in charge and in control. I get this idea every time I visit the group.
Today we are all going to enjoy a night out. What great organising as women have an event in Wolverhampton. What we women activists dont do, meeting to support each other and be in solidarity. I see big organisations for women slowly replaced by these donorless movements of women on Facebook. Daily there are workshops that cost nothing.
My only wish is every woman gets connected to Facebook groups like this as there is a growing movement of women who never led before at such big level taking over the the leadership of the women`s movement. Technology has changed us and it has changed us from having to depend on donors to solve our problems as African women.
Today am off for this most inspiring event and I am honoured to sign copies of my book. This event is strictly for women and the group is strictly for women and by invitation and approval by Founder members.
I have attached flier for everyone to learn more about the speakers and the leadership of the group. I cant wait to be there.
Economic Power

Leadership

Gender-based Violence