FROM CONGO: We Want Our Hero Back, NOW!
---
---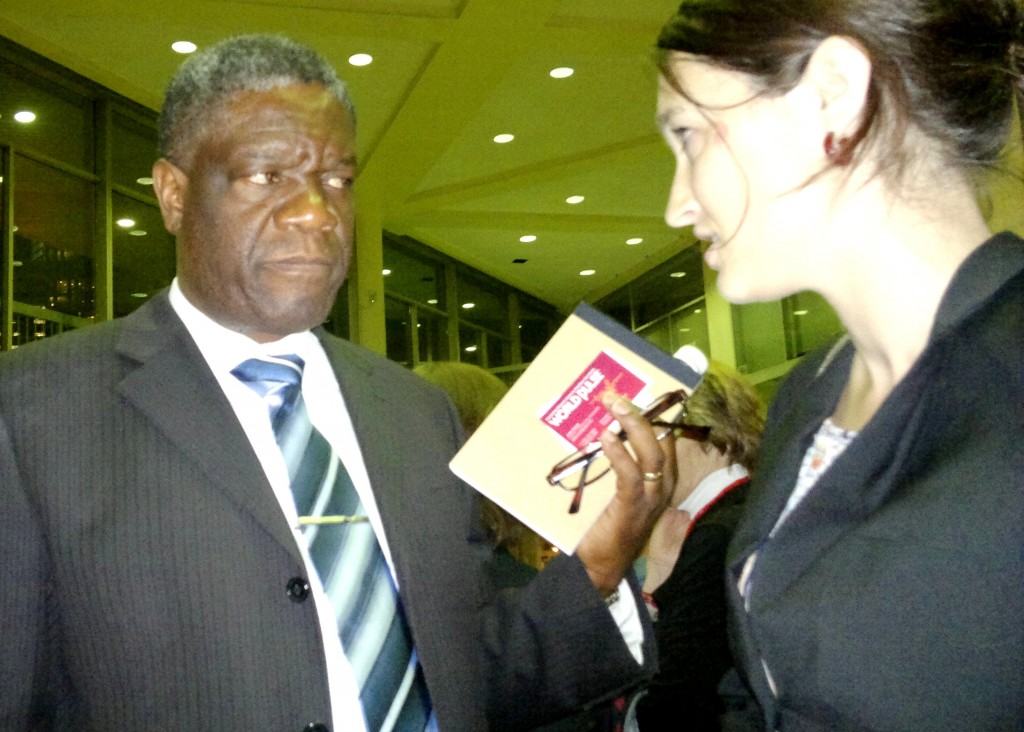 The October 25th assassination attempt on Dr. Denis Mukwege, renowned surgeon and founder of Panzi hospital – the hero and uncompromising voice for the women of Congo – is the culmination of all the violence against its women.
Dr. Mukwege is the champion of the women of East Congo. He has healed over 30,000 of us who were brutalized in unconscionable ways by monsters wearing military uniforms. He has worked tirelessly to heal our bodies, but also for our rights, our safety, and our dignity. We are so thankful that Dr. Mukwege and his family were unharmed in the attack, and mourn with him for the loss of his long time associate and sentinel, Joseph Bizimana.
Every day in East Congo we have to face new atrocities against our gender. The assassination attempt on Dr. Mukwege highlights the fact that there is no bottom to how low they will go. According to a UN statement, "an average 10 to 12 women arrive at Panzi hospital daily for treatment, many of whom require major surgery." And these beasts don't want us to be healed. They don't want us to recover. They brutalize us after raping us so that we can't bear children again. But so many of the 30,000 women Dr. Mukwege has healed do go on to bear children. And when they do, and a son is born, many name their sons "Mukwege." Many, I tell you. One day there will be many Mukweges in Congo.
To the assassins, having Dr. Mukwege leave Congo is almost as good as having him dead, because with Dr. Mukwege gone, so also is our symbol of hope. No one else hears our cries. United Nations Secretary General Ban Ki-moon can give the order in minutes to protect Dr. Mukwege, so why can't the order be given to end the violence against women in Congo? We have been waiting 16 years for someone to give that order. Our champion is evacuated to safety, and we thank you, but do you have another who will so selflessly take up his mantle?
I read the speech online that Dr. Mukwege gave at the United Nations, exactly one month ago to the day of this attempt on his life (Coincidence?). He captured all of our thoughts, our hearts, and our dreams for the women in Congo. He said: "This has been going on for 16 years! 16 years of errancy; 16 years of torture; 16 years of mutilation; 16 years of the destruction of women, the only vital Congolese resources; 16 years of destruction of an entire society."
Dr. Mukwege never speaks of himself; he speaks only about the subjugated women of Congo, as both Congo's hope, and Congo's future. Dr. Mukwege fights for us with all his heart and his energy. He fights for us in the operating room, and he fights for us at the United Nations in New York City. There is no one to replace him. That's why they tried to kill him.
Dr. Mukwege is not only medicine for our bodies, but medicine for our hearts. His belief in us has caused us to believe in ourselves. And now we will find strength we have never found before. We shall not give up. We Demand A Peaceful Congo where our dearest brother and his family can come home. We cannot imagine going on without him. He is our angel. He is our confidence that one day, we as Congo's daughters, sisters and mothers, will be able to live in the dignity of such a noble heritage.
Dr. Mukwege's closing words at the United Nations last month will continue to speak until it is fulfilled. He said: "I have the honour to say that the courage of women victims of sexual violence in the Eastern Congo will in the end overcome this evil."
And to that we say, Amen, Dr. Mukwege. Together, we will overcome this evil!
Leadership

Gender-based Violence