Where Does the Bus Come From?
---
---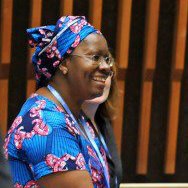 By Nyaradzayi Gumbonzvanda*
The bus would come in the morning around 7.30am from Mukarakate or Macheke on its way to Harare. In the evening around 5.00pm, the same bus would come again, this time from Harare. It would stop at Mupfuti bus-stop next to Mai Tarisai's house.
Like other young girls, I would wave and wave, until the dust had settled and the bus had disappeared down to Nyadire bridge and only for it to emerge as a mirage moments later across Gwishiri village. I would give another little wave, in anticipation of the bus coming again the following day.
Deep in my heart, I just wanted to know where the bus comes from. I wanted to sit in that bus the whole day. I dreamt of boarding the bus at Macheke, driving and gazing across the fields around Mukarakate and cross the narrow Nyadire Bridge with ease. I imagined giving a BIG wave to my friends Veronica, Ndaizivei and Auxilia as the bus passed through Magaya village.
I dreamt of buying things through the bus window at Murewa Center. I had only been to Murewa by scotch-cart. My thoughts took me to Salisbury (now Harare), where I would arrive in this bus and see with my own eyes all what my sister talked about...pa13 miles, paCoca-cola, Mbare and Machipisa.
I just and simply wanted to know where this bus Shiri-yekutanga, was coming from and going everyday.
I finally managed to get to go to Harare. Then one day I took the longest trip by bus to Zvishavane, as I went for my secondary education. Then to law school.....the rest is herstory.
I have travelled the world, I have seen the world, and yet my heart remains in that village. My heart remains with those little girls, who like me more than 30 years ago, simply wanted to know where the bus comes from.
Each day, let's strive to give education, opportunities and possibilities to girls and boys in our communities. Another world is possible, especially for the millions of girls and women in the world today. If only we collectively dare, to weave together the tapestry of possibilities and opportunities; for a life of options and choices grounded on knowledge and skills, necessary to unleash the potential within.
For now I KNOW, the bus comes from our hearts.


Nyaradzayi Gumbonzvanda is the founder and chairperson of Rozaria Memorial Trust, established in honour of her late mother; and current General Secretary of the World YWCA.